---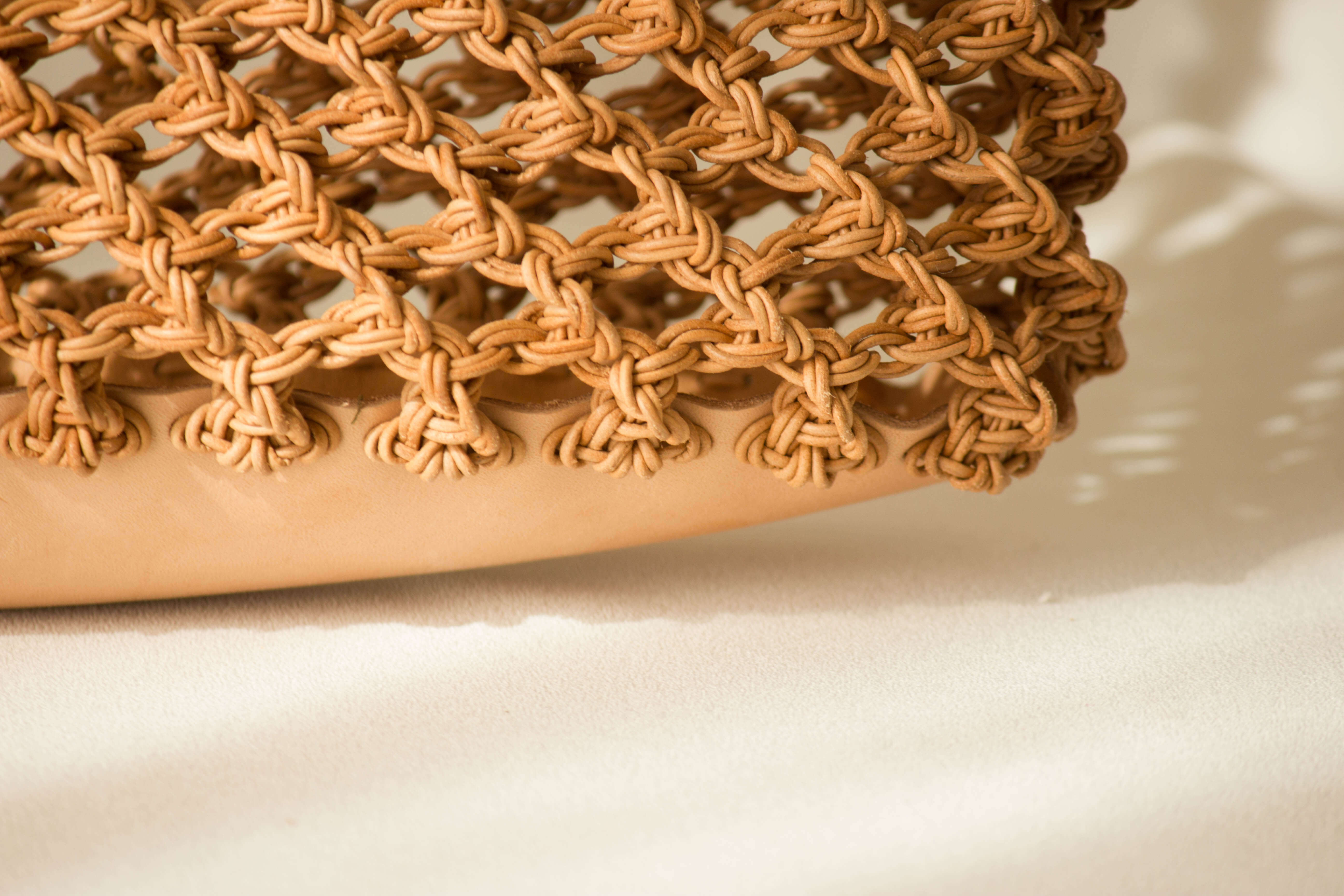 Bona is a leather basket with two short handles, entirely handmade using thin leather strings. Its base is made of a solid leather piece, which makes the bag robust and resistant, while its body is built on a decreasing net pattern.
Perfect for day and night outfits, for a day in the city, at the beach, or for an escape at the grocery shop, this bag can contain all your essentials and inessentials at once. When empty, it is very light.
It comes with a cotton drawstring bag which can be used inside the bag or as protection when you are not using it.
Each piece entails four entire days of artisanal work and is produced in our Barcelona studio.
Very important!
Please remember that we only keep low stocks
ready for purchase on the site, but
we can always produce your bag on request
.
In case your selected color happens to be
out of stock
, just jump to the
form
or send us a few lines at
info@azarstudio.net
and we will have one made just for you.
Measurements: 43cm W x 24cm H and 46cm long handles. Base: 28cm x 8cm
100% vegetable tanned leather, entirely hand-woven.
In its
Naturale
color variant, leather strings tend to acquire brownish and reddish hues over time.
Each piece is unique and artisanal-produced, so colours could have slight variations from the pictures.
· If your preferred color is out of stock, you can order it
here
---
+ COLORS

---
CARE TIPS
keep away from water

dry-scrub gently with a soft brush or cloth to clean it

condition your piece from time to time with neutral mosturizing body cream or leather balm, applied with your hands or a cloth

SHIPMENT FEES
5€ Inside Spain

12€ Inside the European Union

20€ Rest of the world
︎ read more
RETURNS & EXCHANGES
You have 14 days from reception to return your products or ask for an exchange.
︎ read more