Why We Choose To Use Genuine Leather Instead Of Vegan Leather

[ A Z A R · E T H I C S ]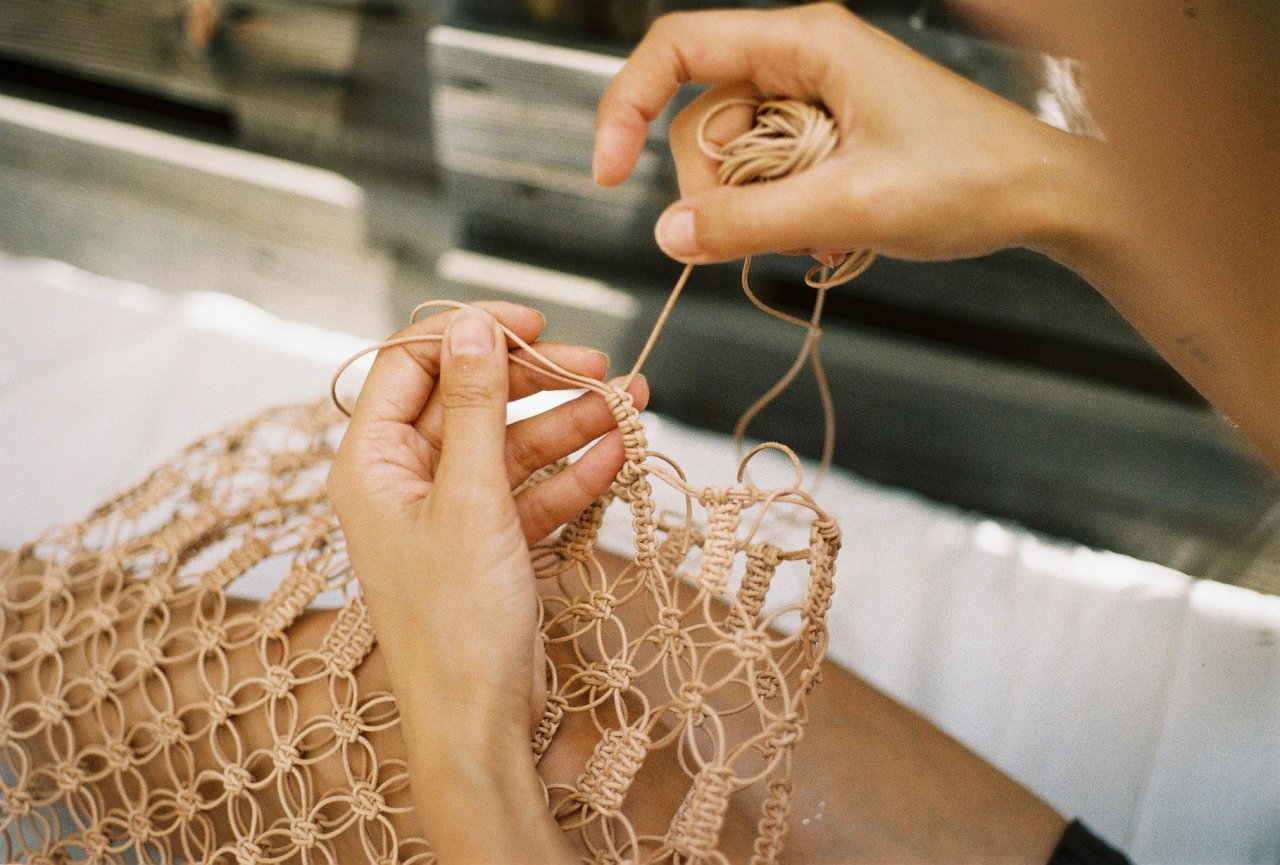 Tamara bag in the making. Photo by Jorgelina Zabert.



We do not intend to change anyone's opinions or convictions through this article. We respect all points of view on the topic, the vegan, the environmentalist, the social revolutionary, and consider that all positions add some important insights to the debate going on about the use of leather in the fashion industry.

Part of the

Azar

team are long-term vegetarians and none of us consume industrial processed-meat, so we feel concerned with the environmental and socio-economic debates ourselves, as consumers long before than as producers.

Despite being a small business centered in craftsmanship and low-scale production, run by two people and a few sporadic collaborators, we consider that as designers and artisans involved in the slow fashion movement, we owe transparency in regard to our decisions and procedures. Moreover, we are pleased to let you get involved in how we approach our creative work and the selection of our materials.

So these are our resons to use genuine leather for out products:



Our hands at work. Photo by Jorgelina Zabert.
1 // There is a cultural heritage in what we do
.
We discussed the anthropological relation of leather with humankind's history in our latest article [
Let Us Talk About Leather, here
]. Humans are the only species known to have adorned themselves with a second skin. This extra hide can be smooth, soft, and cosmetic, or robust, resistant, and protective. For thousands of years, this versatile material has provided the foundation for the manufacture of clothing, jewellery, and accessories. Long ago, human survival depended on hunting and ranching, and this established a clear correspondence between leatherwork and food disposal, creating an emotional bond between men and animals, a bond that we can still bear witness to in certain societies with a strong tradition in stockbreeding and equine culture.
Well, we at
Azar Studio
descend ourselves from some of those cultural traditions, so we arrived at leather braiding as a result of a year-long personal creative research project, a deep apprenticeship journey exploring the remote artisanal techniques of the ethnic groups we descend from. Our vocation for design and craft met our anthropological vocation and that is how Azar Studio was born, but this is another story.
Sadly enough, most of the leather produced nowadays is destined to quite another kind of relation to the material. In our industrialised times, the cultural relationship between man and the raw material he works with has been destroyed by consumers' society and mass-production. We all know the story. But we do not blame the material for that. We blame the system. We will discuss this point later in the article, so keep reading.
2 // Leather is a noble and durable material, it ages awesomely and can be left in bequest to the ones that will come after us.

How many of you inherited a leather jacket or bag from your mum or grandma, and didn't proudly answer 'this is real vintage' when somebody questioned 'where did you get that beauty from?'? Well, we did.

Our hand-braided bags, belts, and jewels are made out of cow leather. This leather has a series of properties that makes it perfect to achieve the durability and resistance that we are seeking. It is thick and resistant, with a lower probability of breaking in comparison to other animal leathers, such as horses', pigs' and lambs' skins. It is breathable and malleable, even if some other leathers would result in an easier hand-working procedure. We choose cows' skin and accept to apply more strength in the manual braiding because it keeps the shape it is given and resists deformation through usage. It is extremely durable and naturally repels water and humidity, while being at the same time also highly resistant to heat and UVA rays, which makes it suitable for products to wear outside.

'Leather is an investment', my Italian grandma used to say.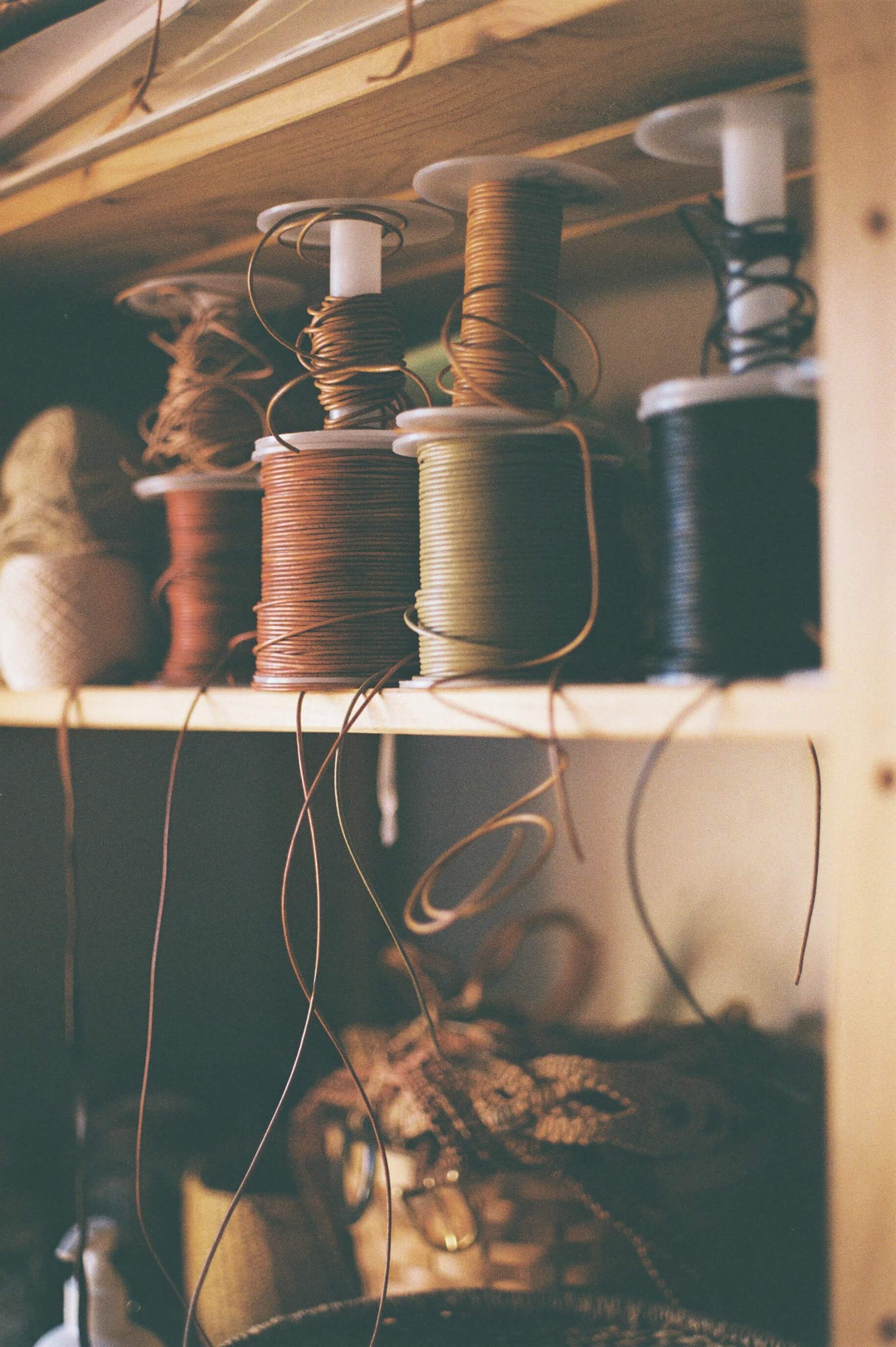 Leather cords at the studio. Photo by Jorgelina Zabert.



3 // We opt for vegetal tanned leather, produced in small batches through artisanal-dyeing techniques.

We buy extremely few quantities of leather for our cord-braided bags, so we can only opt to get them from a small producer. Big industrialised plants have unbearable minimum order quantities, which we are not able, and not even willing, to fulfill.

The skins come from animals that have naturally ended their life span, whose rests would be transformed into rubbish if they would not be tanned and re-used as leather products. We choose vegetal tanned leathers, even if the colour range achievable through this technique is limited and the process more labourous. This dying procedure is artisanal and slow, and even using the same colour formula, colorus may present small variations from batch to batch. Sometimes we have to dismiss whole dyed batches and start all over again, and other times we just love how nature surprises us.

You can take a look at this article if you wish to know more about tanning procedures.

And one more thing: if your great-granddaughter doesn't want the hand-braided leather bag she inherited from you anymore and decides to convert it into rubbish, the environment will be safe: vegetal tanned leather is biodegradable.


Vera bag in the making.

4 // Vegan leather does not convince us.

Fake leathers available in the market today are made of polyurethane-based mixtures. (Again, go to our latest article to know more about them). They are not durable, not resistant, not able to gain nice shades through aging (quite the opposite; they crack), not suitable for the inherent friction of manual twisting and braiding and worse so: they are not biodegradable.

At the moment there isn't one single aspect that would let us produce our braided products in vegan leather with acceptable results. Some biodegradable alternatives are being researched, but none of them are produced in steady and resistant options, suitable for hand-braiding and with proven lasting characteristics.


Vera bag in the making.
5 // How do we help limit the impact of our product for the environment?

We keep no stocks. Besides our samples, we produce a few units available to be purchased, constantly renewed through our website. We work on 90% of our sales through custom-orders. This is how we make sure we are not producing more than needed, and that we will generate no unnecessary waste items. This practice holds one inconvenience: the processing time from the order to the delivery is longer than it is for standard fashion enterprises. But we call ourselves slow fashion and find that clients purchasing our products have a remarkable pre-disposition to revert the outrageous consequences of fast-fashion.

On the other side, there are also some advantages: we can go on purchasing our leather from a small producer and we encourage conscious buying habits in the people who may still suffer from compulsive consumeristic habits of "two clicks and you have it at home in 24 hours".

Our business volume is thus much limited than that of traditional fashion brands. But we are happy this way and feel the pleasure of the deep inner coherence with our beliefs in every product we sell.
6 // We stand for artisanal local production as a way to change the fashion system from the inside.
The system won't change only through the use of organically produced, sustainable fibers.

As long as almost everything we consume is being manufactured in developing countries, we can't control under which conditions they are produced and by what prices. If you are reading this article, you are probably in search of an alternative, more ethical way to consume and avoid purchasing mass-produced items. But we want to take you one step further.

Showing appreciation for a unique, masterfully crafted product implies the need to pay a higher price for it. It implies supporting local businesses that struggle with competitors that produce with aggressively low prices by dislocated productions, a terrible practice inherited from fast fashion. It implies buying less, but choosing carefully what to buy, not only for its practical and aesthetic features, but also in terms of its long-lasting durability. Finally, it also implies supporting culture, because craftsmanship and its capability to innovate from a deep knowledge of matter, is a fundamental aspect for the development of a healthy society.
Vera bag in the making.


7 // We stand for material consciousness and poetry.

There is a silent poetry in the uncountable gestures of craftsmanship. Every piece of leather has to be sensed, moisturised to the perfect point, persuaded to take one shape and to form a knot with another piece, which might come from a different tactile status. We speak to matter and matter speaks to us every day. There is a subtle inner dialogue in the act of crafting any one of our pieces, and this is what makes them really unique. Anyone of them has a story, a life, a soul, which they will go on having once they get to your hands.


[ TAKE ME BACK ]

[ HOME ]